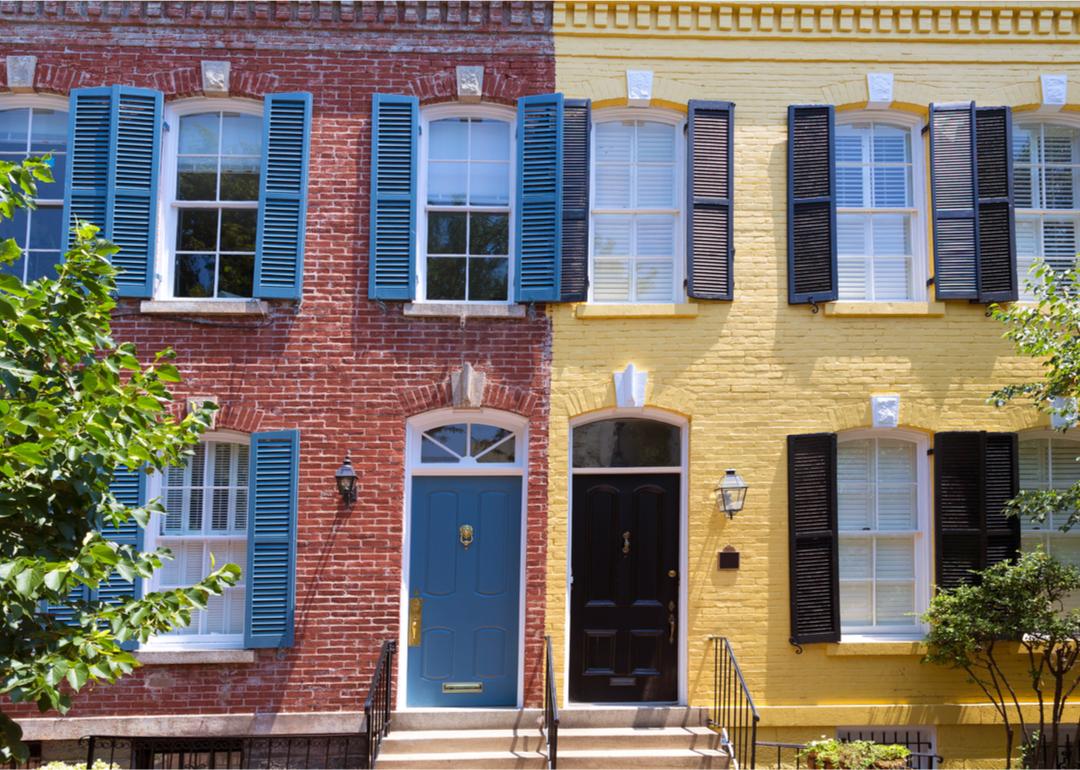 Stacker Studio
How home sale growth compares in America's 4 regions
lunamarina // Shutterstock
How home sale growth compares in America's 4 regions
The state of the housing market was anything but normal throughout the pandemic, thanks to a massive shift in buyer demographics, home prices, and inventory that occurred in markets across the U.S. As competition to buy homes skyrocketed, housing inventory dropped while prices soared. Thanks to the uncertainty of the pandemic and an overheated seller's market, traditional home shopping and buying behaviors were upended. 
Take, for example, the buying trends that occurred among millennial homebuyers. Millennials have long lagged behind Gen Xers and baby boomers in homeownership, with many pointing to the Great Recession and student debt as some of the reasons that have delayed the ability to save for a down payment. But in the five years leading up to the pandemic, millennial homeownership rates had begun to rise steadily, increasing faster than other generations. By 2020, homeownership for millennials 35 and younger grew 15.8% compared to the year before. 
As with buyers across generations, the pandemic jumpstarted homebuying for many millennials thanks to low interest rates, remote work options, and the growing desire to find more space and privacy at home. As they reached prime home-buying age, 47.9% of millennials owned a home in 2020, according to a 2021 report from Apartment List. Still, the group—now the largest generation by population—continues to buy homes at a slower pace than the generations before. At age 30, 42% of millennials own homes, compared to 48% of Gen Xers and 51% of baby boomers when they were the same age. 
Overall, the super-heated market led to a downward trend for first-time homebuyers across generations. Only 37% of buyers were first-time homeowners in 2021, despite newcomers comprising about 46% of all buyers in 2018, just three years prior. Prospective homeowners across the spectrum continue to face an uphill battle. Rising home prices, low inventory, and high barriers of entry led to ultra-competitive markets in many regions. Pandemic-related financial losses also caused setbacks for many potential homeowners. Younger buyers also face stiff competition from older generations, especially baby boomers who, on the whole, have more disposable income than younger generations and more real estate wealth to boot.
These types of trends ultimately had a direct impact on how housing market growth compared in regions across the nation. Realm used data from the U.S. Census Bureau's New Residential Sales report, released Jan. 26, 2022, to compile statistics on home sales in the United States and its 4 major regions—Midwest, Northeast, South, and West. For each region, the number of privately owned, single-family homes sold over a one-month period were shown and compared for December 2021, June 2021, and December 2020. The total number of homes sold in 2021 is included as well. All numbers have been rounded to the nearest thousand by the Census. Here's what you should know about how home sales growth compares in each market.
This story originally appeared on
Realm
and was produced and distributed in partnership with Stacker Studio.